EVAPORATION

Didier Casamitjana / Kasper T. Toeplitz
Percussions / Basse & Live-electronics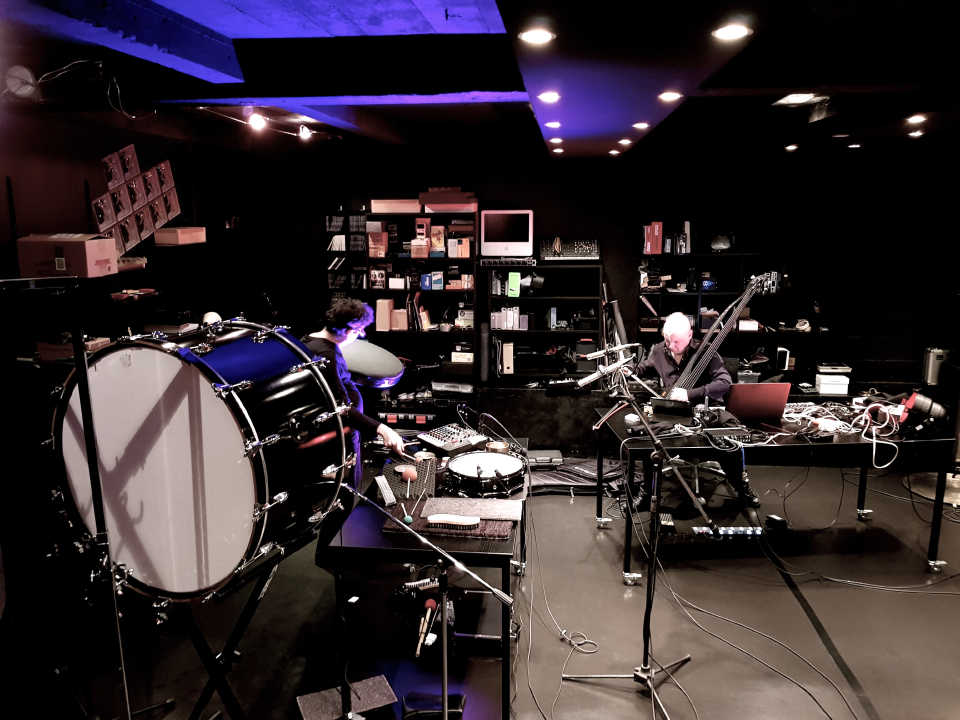 EVAPORATION

Didier Casamitjana et Kasper T. Toeplitz se sont rencontrés il y a longtemps, encore au XXe siècle, et leur travail musical en commun a évolué au fil des années, depuis la traditionnelle relation compositeur-interprète jusqu'à devenir un duo de percussions/ basse-électronique, basé sur des idées sonores librement adaptées de leur pratiques et à la relation quasi télépathique qui est la leur aujourd'hui. Le duo se concentre actuellement sur le son plutôt que sur la musique dans son sens plus traditionnel, des sons plus organiques suggérant des vagues d'immobilité, des mondes indépendants et faiblement évolutifs, un éco-système flou, un bain de sons infinis parfois interrompus par des irruptions de pur bruit .
Didier Casamitjana and Kasper T. Toeplitz met a long time ago, still well into the 20th century and their musical work evolved through the years from the traditional composer-interpreter relation, to Kasper writing a huge amount of works secifically thought for Didier's percussions (with or without other instruments or electronic sounds), then became a percussion - bass/electronics duo, based on freely adapted sonic ideas to the quasi-telepathinc relation it is today. The current focus of the duo is sound rather than music in its more traditional meaning, more organic sounds which might suggest waves of stillness, slightly evolving independent worlds, fuzzy eco-system, a bath of infinished sounds at times broken by irruptions of the purity of noise
KASPER T. TOEPLITZ (pl/fr)

Composer, electric bass player and musician who has developed his work in the no man's land between "academic" composition (orchestra, ensembles, opera) and electronic "new music" or "noise music".

Compositeur, bassiste électrique et musicien qui a développé son travail dans le no man's land entre composition "académique" (orchestre, ensembles, opéra) et musique électronique "nouvelle musique" ou "noise music".
DIDIER CASAMITJANA (fr/be)


Percussionist with classical and contemporary training.
Joined many transversal projects in the performing arts dance and theater, contemporary music and signed a multitude of stage musics.
Following a work around the gongs with ' Espace Pasolini - Valenciennes ' , he launches his Gong Bath project,
sessions of relaxation to the sounds and the vibration of the Gongs, in solo concert with the Gongs

Percussionniste de formation classique et contemporaine .
Rejoint de nombreux projets transversaux dans les arts scèniques danse et théâtre, la musique contemporaine et signe une multitude de musiques de scène .
A la suite d'un travail autour des gongs avec l'Espace Pasolini de Valenciennes il lance son projet de Gong Bath, séances de relaxation au son et à la vibration des Gongs .
************
we both play together since years and years, under different names, or without a name. Recently with teh EVAPORATION name
9 March 2020

Evaporation Impaire


_Les lundis de L'impair
à Caracol, studio du Surnatural Orchestra
theatre de L'échangeur
5 av du Général De Gaulle
93170 Bagnolet
19:59 - jauge limitée à 19 personnes !!

30 november 2018

super silent & quiet music by KTT - bass & Didier Casamitjana - percussions

LE LAC
36 Rue de Witte de Haelen 1000 Bruxelles

13 june 2014
a 2 hours event with multiple strings, percussions, electronics & dancers
Ecole Joliot Curie, Blanc-Mesnil, music KTT & Didier Casamitjana, dance Myriam Gourfink
Evaporation Impaire (march 2020)
ERRADIE in 2001